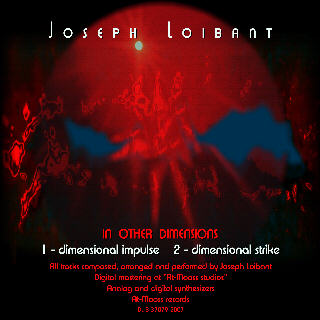 JOSEPH LOIBANT
"IN OTHER DIMENSIONS"
EL DIFUSO CONFIN DEL HORIZONTE APACIBLE,
CUYA SUTIL LINEA SE VUELVE DISPERSA CON EL ESTALLIDO DE LA OLA
Y EL BALBUCEAR SONORO DE LA MELODIA PERSISTENTE DE LOS TIEMPOS.
GENESIS SECUENCIAL INTERMINABLE DE RITMO ENVOLVENTE Y VARIABLE.
EL MAR ORIGEN DE LA VIDA Y EL SOL NUESTRA ESTRELLA MAS CERCANA,
LA TIERRA, LA LUZ, EN UNA ATMOSFERA UNICA EN NUESTRO SISTEMA.
EL PENSAMIENTO Y LA RAZON SE ENTRECRUZAN EN EL ESPACIO CONOCIDO.
OCULTAS DIMENSIONES NOS RODEAN ESCAPANDO AL CONOCIMIENTO.
ENTORNO ABIGARRADO SUPERIOR A NUESTROS SENTIDOS Y PERCEPCION.
INMENSO ESPACIO CASI VACIO EN LA ESTRUCTURA DE LA MATERIA.
OTRAS REALIDADES SUPERAN NUESTRO CONDICIONADO RAZONAMIENTO.
DIVERSAS FORMAS DE MEDIR DESVELAN EL COMPORTAMIENTO DEL COSMOS.
"EN OTRAS DIMENSIONES" DE NUESTRA IMAGINACION ESTA UN UNIVERSO REAL.
LA MUSICA PUEDE ACTIVAR ESTE MECANISMO TAN EXTRAORDINARIO.
Joseph Loibant.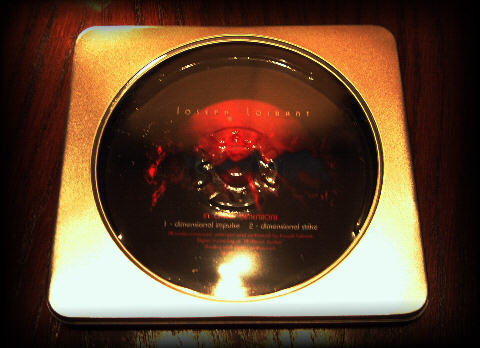 "IN OTHER DIMENSIONS" SE COMERCIALIZA CON LA CAJA DE METAL DE LA IMAGEN.
"IN OTHER DIMENSIONS"

THE DIM BOUNDS OF PEACEFUL HORIZON, WHOSE SUBTLE

LINE BECOMES SCATTERED WITH THE BREAK OF THE WAVE

AND THE MUTTERING SOUND OF THE PERSISTENT MELODY OF TIMES.

ENDLESS SEQUENTIAL GENESIS OF ENVELOPING, CHANGEABLE RHYTHM.

THE SEA, ORIGIN OF LIFE , AND THE SUN, OUR

NEAREST STAR, THE EARTH, THE LIGHT, IN A UNIQUE ATMOSPHERE IN OUR SYSTEM.

THOUGHT AND REASON INTERTWINE IN KNOWN SPACE.

HIDDEN DIMENSIONS SURROUND US ESCAPING FROM KNOWLEDGE.

COLOURFUL ENVIRONMENT FAR SUPERIOR TO OUR SENSES AND OUR PERCEPTION.

IMMENSE SPACE ALMOST EMPTY IN THE STRUCTURE OF MATTER.

OTHER REALITIES EXCEED OUR CONDITIONED REASONING.

DIVERSE WAYS OF MEASURING REVEAL THE BEHAVIOUR OF THE COSMOS.

"IN OTHER DIMENSIONS" OF OUR IMAGINATION IS A REAL UNIVERSE.

MUSIC CAN ACTIVATE THIS SO VERY EXTRAORDINARY MECHANISM.

Joseph Loibant.